Large Grizzled Skipper (Pyrgus alveus)
2021 photographs highlighted in yellow. Click on any photograph to go to an enlarged picture, or simply scroll down the page.
| | | |
| --- | --- | --- |
| | | |
| 27136_male_Hautes-Alpes_14Jul11 | 21770_male_Alpes-Maritimes_8Jul10 | 21800_male_Alpes-Maritimes_8Jul10 |
| | | |
| 22250_male_Hautes-Alpes_14Jul10 | 33515_male_Hautes-Alpes_8Jul13 | 23332_male_Vaud, Switzerland_27Jul10 |
| | | |
| 30612_male_Hautes-Alpes_6Jul12 | 36201_male_Hautes-Alpes_15Jul14 | 46339_male_Hautes-Pyrénées_8Jul19 |
| | | |
| 47069_male_Savoie_8Jul20 | 48164_male_Hautes-Pyrénées_7Jul21 | 46348_female_Hautes-Pyrénées_10Jul19 |
| | | |
| 27481_male_Isère_18Jul11 | 22837_male_Isère_19Jul10 | |
The upperside ground colour of the nominate form of alveus is usually a dark grey-brown sometimes with a yellowish flush, with smallish white marks on the upf, especially in the cell, and very weak marks on the uph. The unh has no particular distinguishing features, the discal marks in s2 and s3 being quite small, but this is not unique to alveus. It is perhaps the most difficult of the French Pyrgus species to identify with any degree of confidence, and I have included some on this page that I am not at all confident are alveus in order to invite comment. It usually seems to be a case of the "balance of probabilities" rather than "beyond reasonable doubt".

The Lafranchis ID book simply says that the uph marks are dull, which is hardly a unique differentiator. The unh ground colour is olive brown. Alveus is a relatively large Pyrgus, but only slightly larger than most of its cousins, so identification may be based more on this rather than analysis of the photograph. It has a wide altitude range, from 0 to 2100m and flies in June-August.

The subspecies accretus (also, but now largely historically, called centralhispaniae or centralitaliae) is completely different to the nominate form P. a. alveus in that the upf white marks are very well-defined and the uph marks are strong and well-contrasted. The undersides of nominate alveus and accretus appear to be very similar as far as I can ascertain. Accretus flies in south-west Europe including, as its alternative names imply, central Spain and Italy. There seems to be very little information available of the exact distribution of accretus and its relationship to alveus, particularly in respect of whether it can be considered as a separate species.

With regard to accretus in the Pyrénées, see also the general and species-specific comments on the Oberthur's Grizzled Skipper (Pyrgus armoricanus) page.
| | | | |
| --- | --- | --- | --- |
| ref | sex | observations | alt. m |
| 27136 | M | the rather cold, slightly greyish, brown ground colour is indicative of alveus. The pale and whitish markings on both upf and uph are quite strong by alveus standards. The blue to the left is a Glandon Blue (P. glandon). | 2010 |
| 21770 | M | this male matches the illustration in T&L perfectly for the subspecies accretus (centralhispaniae). | 1800 |
| 21800 | M | this is a rather colder grey-brown colour than average. The cell spot is not sufficiently well-defined to suggest other species, nor is it outwardly concave which would suggest the Carline Skipper (P. carlinae). | 1800 |
| 22250 | M | I suspect this may be a male from the body length. I had some doubts as to whether this is actually alveus; the upf marks are rather strong, and the cell spot has just a suggestion of external concavity which might suggest carlinae, but having seen the underside, this clearly rules out carlinae. | 2040 |
| 33515 | M | a very fresh specimen, very typical for alveus, except that the upf markings are slightly strong. | 2010 |
| 23332 | M | I am fairly certain that this is a male alveus as I also have an underside shot and it was ID'd with certainty by a local expert. The upperside markings are just about spot-on for alveus and I recall that it was a large Pyrgus. | 1120 |
| 30612 | M | a typical male alveus, the upf cell spot being perhaps a little heavier than the norm for this species. | 2020 |
| 36201 | M | a fresh male, lightly marked and with a nice sandy basal dusting. | 2020 |
| 46339 | M | a fresh male with a particularly pale sandy flush, especially in the upf basal region. The markings are at about the upper limit of strength for alveus and even the uph discal mark is well contrasted, albeit quite yellow-brown, by the standards of this species. | 1700 |
| 47069 | M | from the département of Savoie, a more northerly location than most on this page. The white marks are significantly smaller than most others on this page but whether this is just a variant, or typical of specimens from the northern French Alpes, is not clear. | 2070 |
| 48164 | M | a male from the Hautes-Pyrénées, the same location as 46339 but rather different, much paler and greyer, which seems not to be as a result of ageing as it looks quite fresh. | 1700 |
| 46348 | F | a female, something of a rarity in my experience. It was from the same location as 46339 and had the same sandy flush, rather more yellowish, with weaker markings which is usually (but not always) the case for Pyrgus females. | 1700 |
| 27481 | M | a rather typical alveus unh. A clear view of the upperside enabled confirmation of alveus. | 2160 |
| 22837 | M | the unh marks here all point to alveus. The discal s2/3 are completely empty, ruling out armoricanus. Basal s7 is rather rounded suggesting carlinae but the marginal mark on v5 is not sufficiently large or well defined, and the altitude is some way below the normal range for carlinae. | 1120 |
27136_male_Hautes-Alpes_14Jul11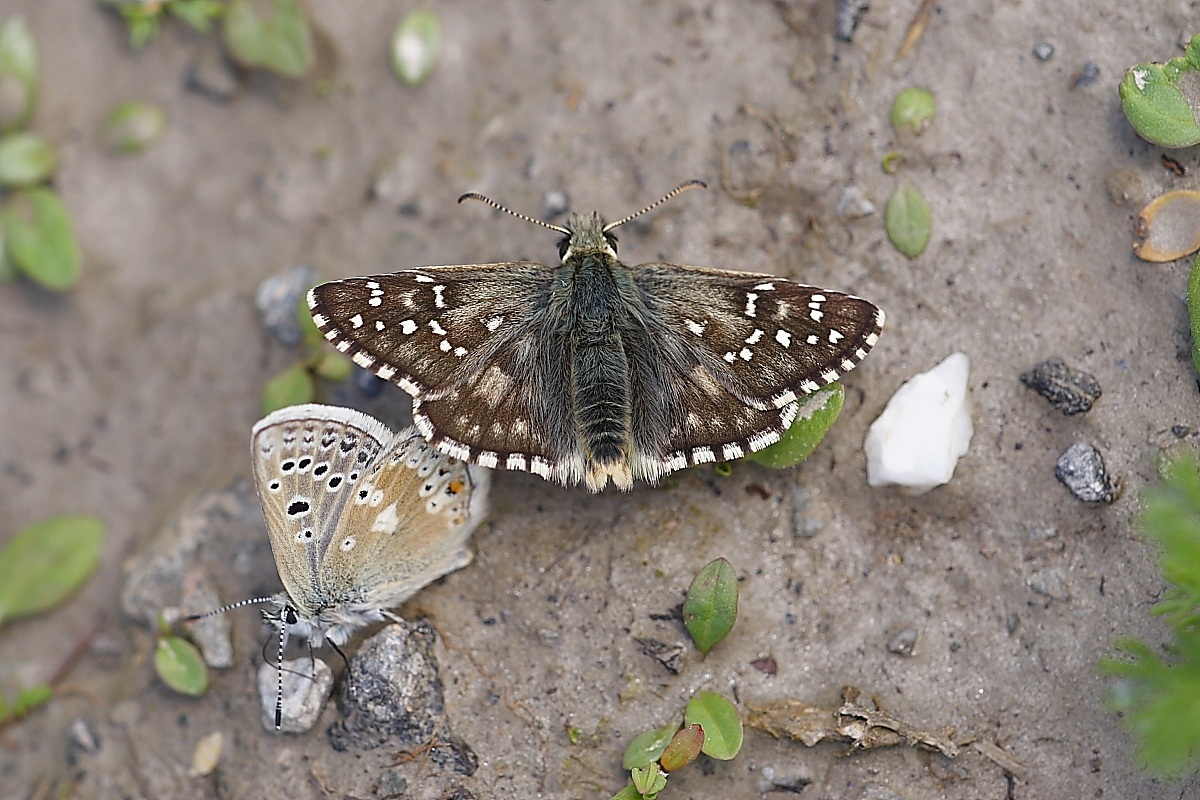 21770_male_Alpes-Maritimes_8Jul10
21800_male_Alpes-Maritimes_8Jul10
22250_male_Hautes-Alpes_14Jul10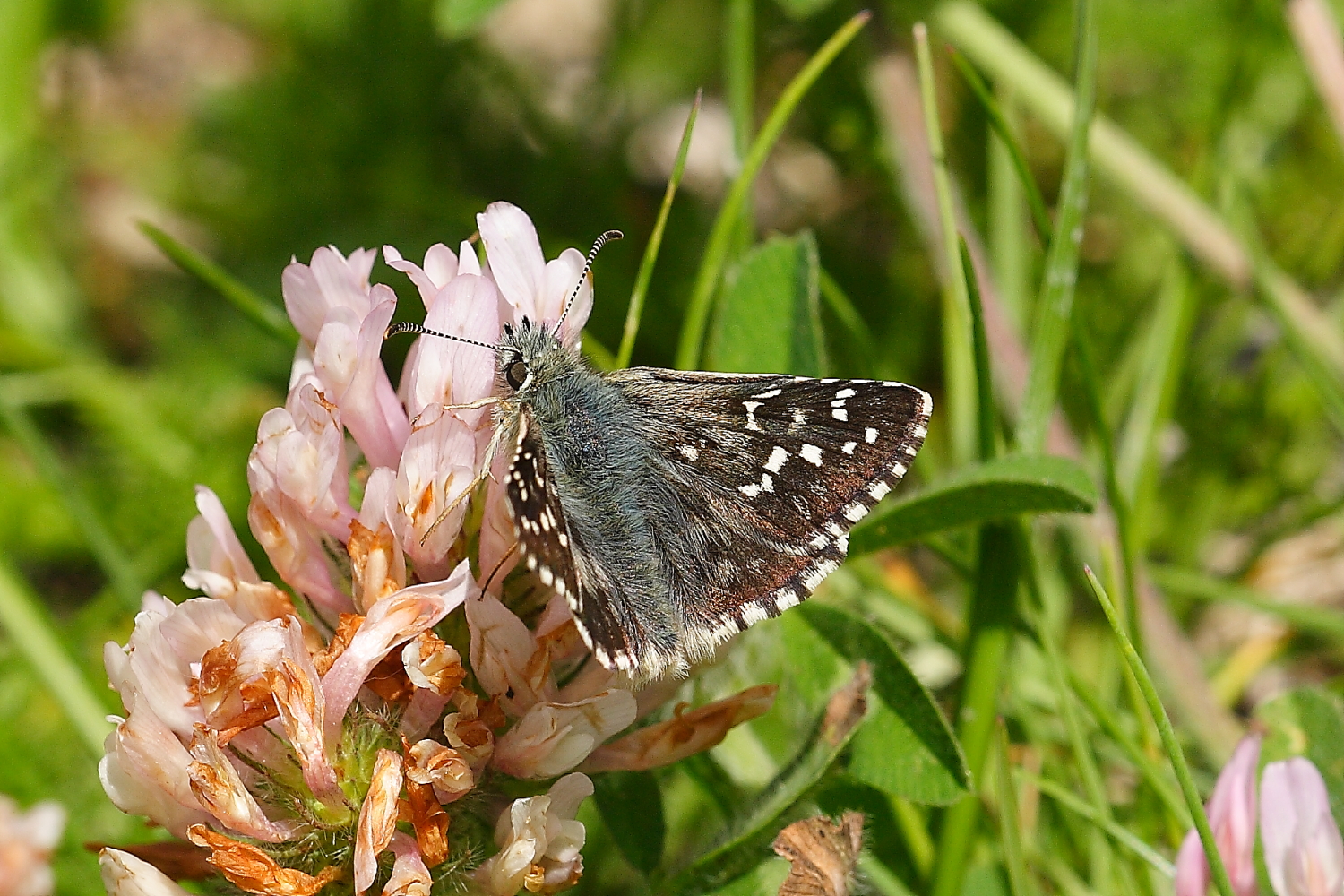 33515_male_Hautes-Alpes_8Jul13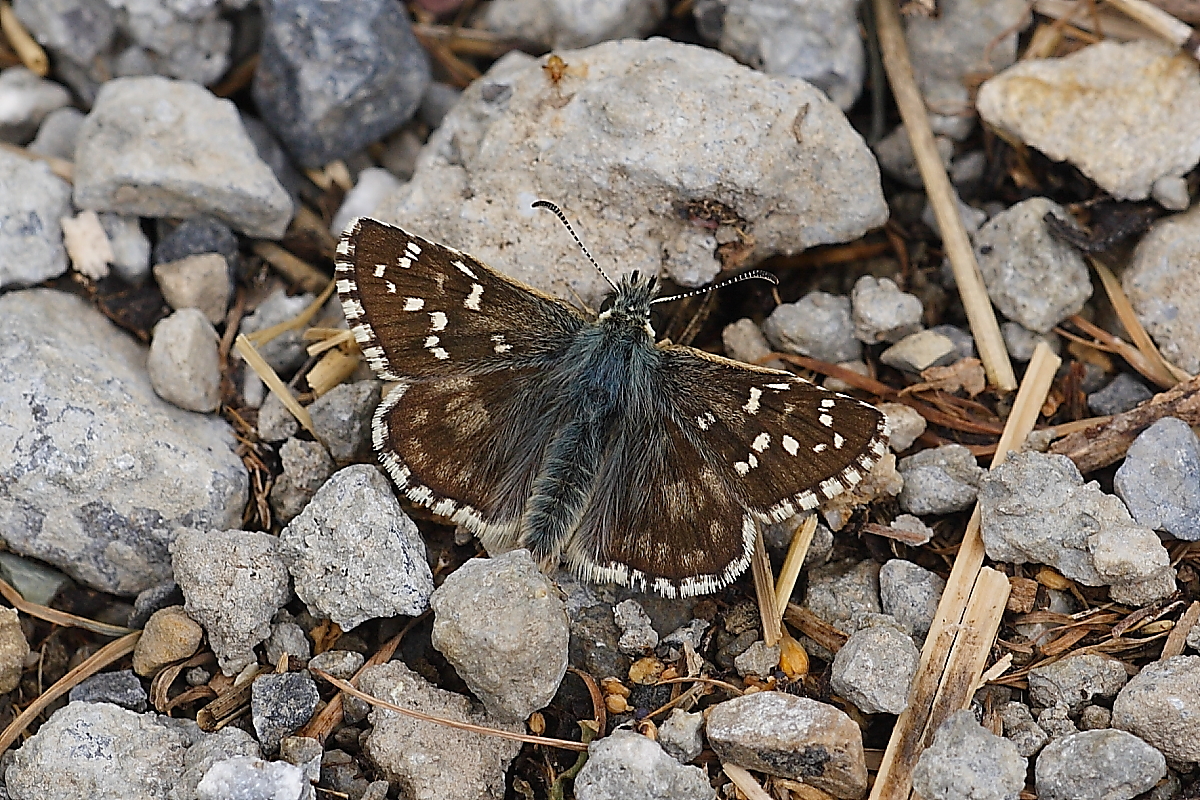 23332_male_Vaud, Switzerland_27Jul10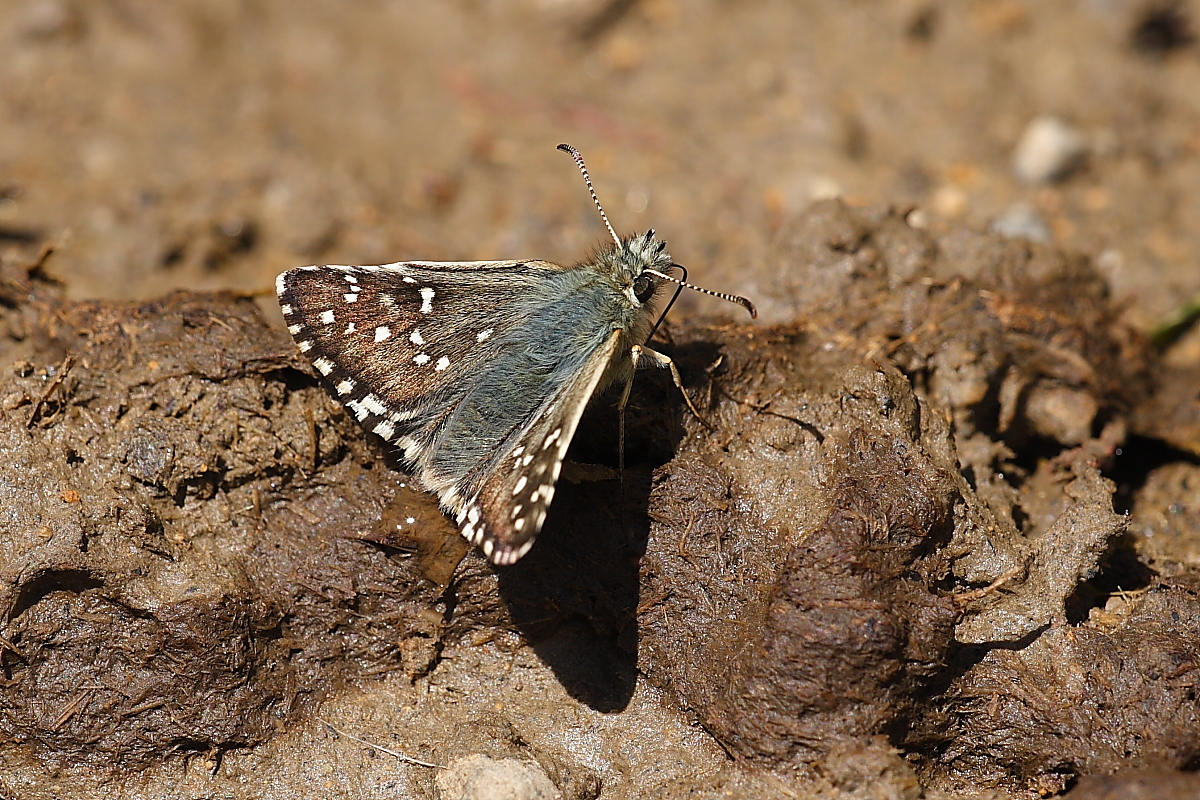 30612_male_Hautes-Alpes_6Jul12
36201_male_Hautes-Alpes_15Jul14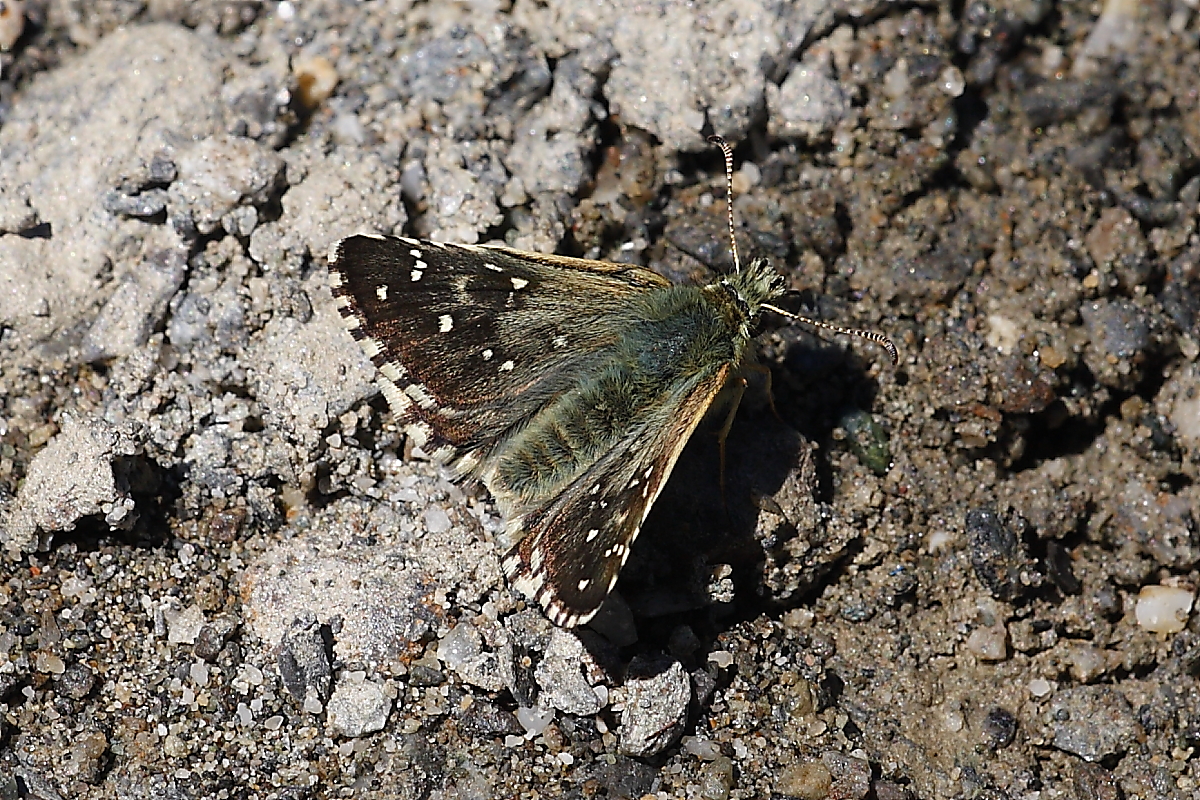 46339_male_Hautes-Pyrénées_8Jul19
48164_male_Hautes-Pyrénées_7Jul21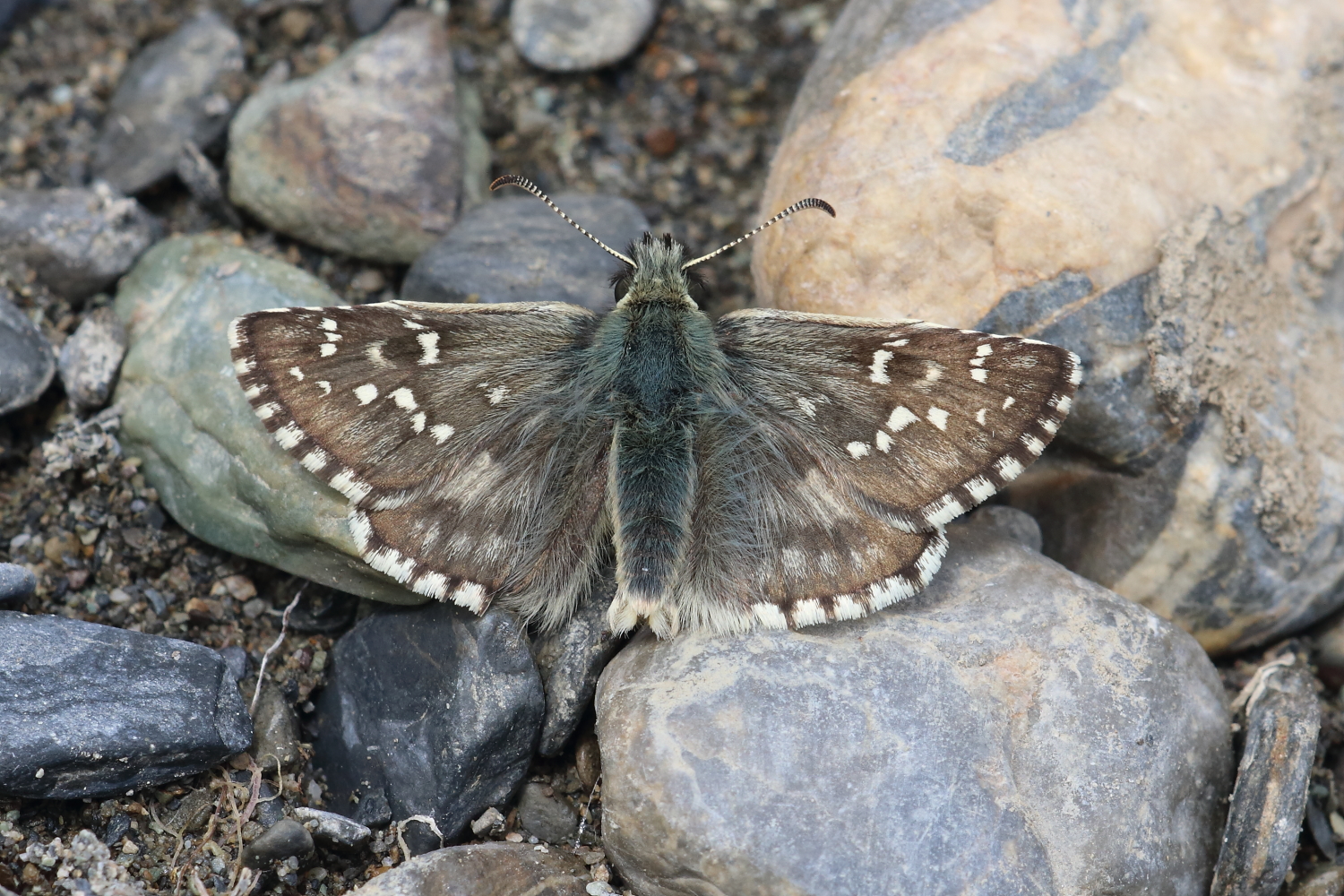 46348_female_Hautes-Pyrénées_10Jul19