Scarce Fritillary (Euphydryas maturna)
2020 photographs highlighted in green. Click on any photograph to go to an enlarged picture, or simply scroll down the page.
| | | |
| --- | --- | --- |
| | | |
| 15903_male_Côte-d'Or_05Jun09 | 15942_male_Côte-d'Or_05Jun09 | 43125_male_Côte-d'Or_02Jun17 |
| | | |
| 43159_male_Côte-d'Or_02Jun17 | 43210_male_Côte-d'Or_02Jun17 | 43144_female?_Côte-d'Or_02Jun17 |
| | | |
| 15933_female_Côte-d'Or_05Jun09 | 15954_female_Côte-d'Or_05Jun09 | 43192_male_Côte-d'Or_02Jun17 |
A very scarce fritillary (for once, the name is an accurate reflection) which in France only occurs in small colonies in the north-west and its range is shrinking, mainly due to habitat destruction. It has quite a wide range in eastern Europe, though. Lafranchis gives the flight period as end-May to June (possibly early July) but when I first visited the site in Côte-d'Or on 8 June 2008 there were only two rather worn females flying, suggesting that it was almost the end of the flight period.

I revisited the site on the same date in 2009 and there were (numerous) males flying but quite worn and some of the females were a little fresher, suggesting that 8 June is indeed near the end of the flight period. A visit to a site in the same region on 2 June 2017 was rewarded by seeing several males, mostly quite fresh, so the very beginning of June appears to be the best time. Its numbers can vary from year to year.

It is generally a low altitude species, but has a rare high altitude cousin, the Asian Fritillary (E. intermedia) which I only saw for the first time in 2016, despite considerable searching.
A male taking salts from the ground.
Best viewed at 1080.
| | | | |
| --- | --- | --- | --- |
| ref | sex | observations | alt. m |
| 15903 | M | a reasonably fresh male, albeit a distance shot. | 320 |
| 15942 | M | even though this male is quite worn, the beautiful markings are still clearly visible. It would have been magnificent when fresh. | 320 |
| 43125 | M | a reasonably fresh male nectaring on Field Scabious (Knautia arvensis) which makes photography very difficult as even the weight of the butterfly makes the flower head sway. | 370 |
| 43159 | M | a male taking salts on a gravelled roadside patch, again not easy to get a good photograph here as it moved constantly. | 370 |
| 43210 | M | a second male on the same gravel patch. | 370 |
| 43144 | F? | I suspect this is a female based on the extent of the markings. It is perhaps unexpected that the three males should appear fresh and the female should be showing signs of wear. | 370 |
| 15933 | F | a female, notably larger than the male, and less contrast in the markings, but quite a typical female in my limited experience. | 320 |
| 15954 | F | a female, distinctly more orange than 15933 and rather fresher. | 320 |
| 43192 | M | a male, the underside of 43159. It is a fabulous underside, beautifully marked, and possibly a once-only opportunity to get a clean photograph. | 370 |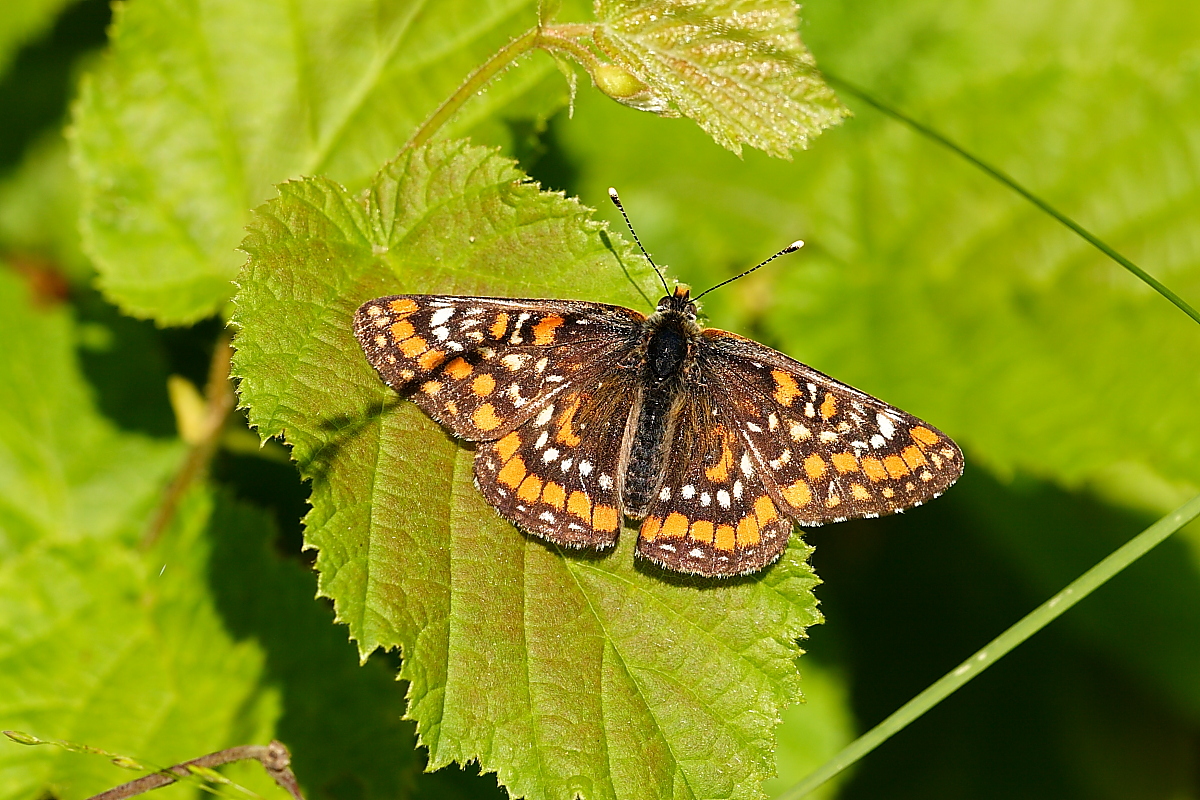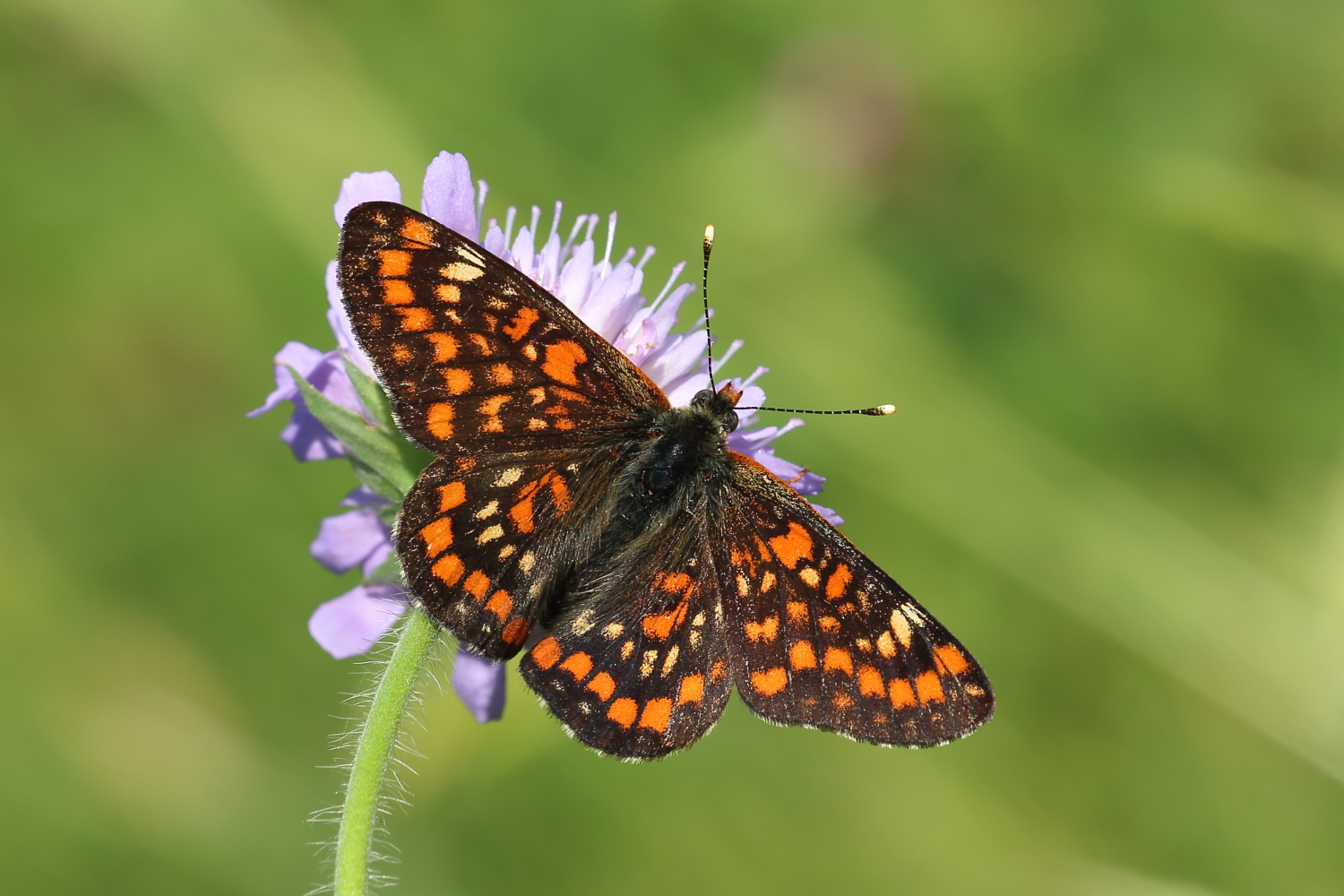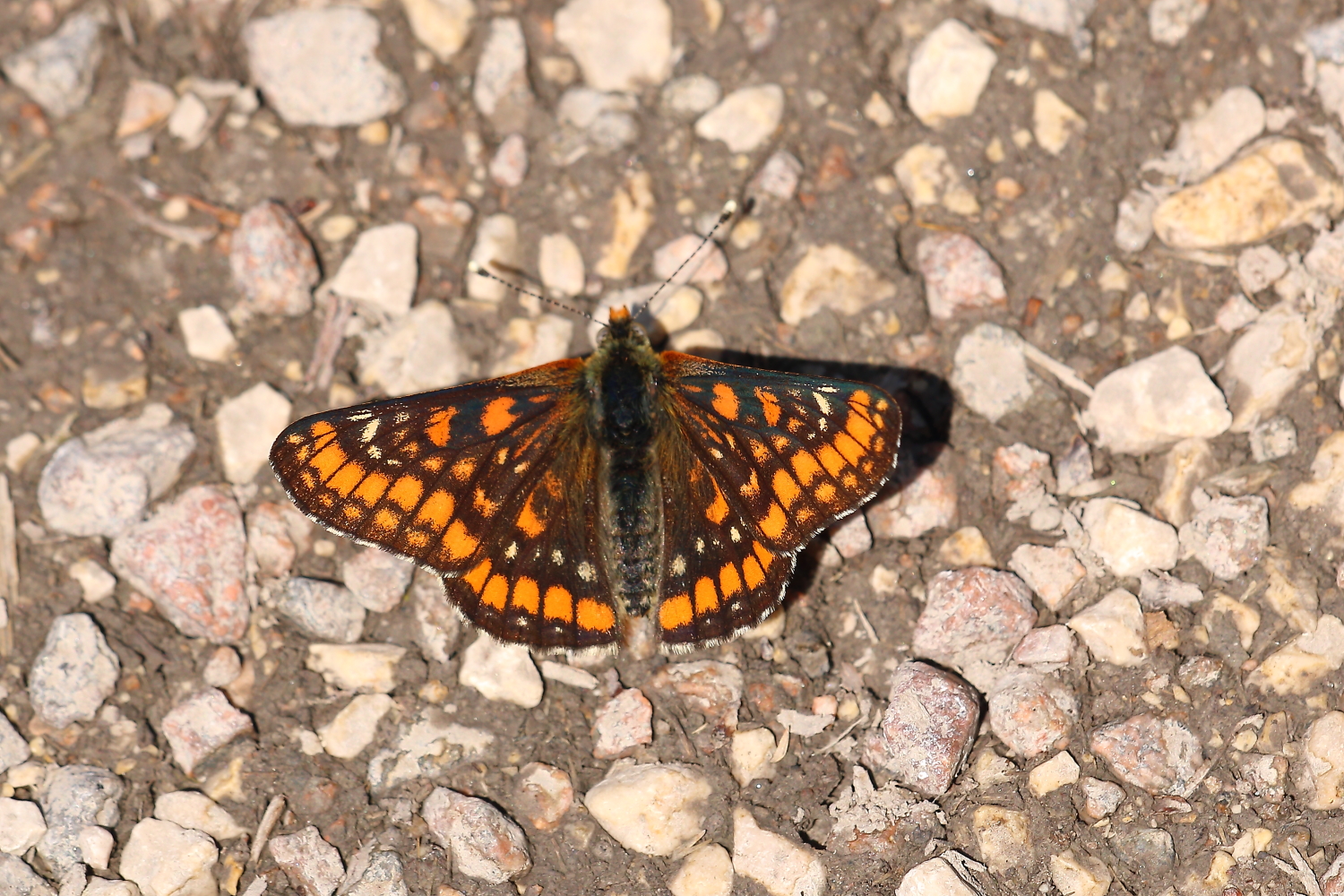 43144_female?_Côte-d'Or_02Jun17
15933_female_Côte-d'Or_05Jun09
15954_female_Côte-d'Or_05Jun09