Niobe Fritillary (Argynnis niobe)
2022 photographs highlighted in blue. Click on any photograph to go to an enlarged picture, or simply scroll down the page.
| | | | |
| --- | --- | --- | --- |
| | | | |
| 8419_male_Valais, Switzerland_22Jul07 | 22589_male_Isère_18Jul10 | 41522_male_Hautes-Alpes_15Jul16 | 41553_male_Hautes-Alpes_15Jul16 |
| | | | |
| 47408_male_Alpes-Maritimes_16Jul20 | 47555_male_Alpes-Maritimes_20Jul20 | 48428_male_Pyrénées-Orientales_13Jul21 | 5956_female_Var_28May07 |
| | | | |
| 25991_female_Var_25Jun11 | 23232_female_Valais, Switzerland_26Jul10 | 35424_female_Var_18Jun14 | 44451_female_Alpes-Maritimes_17Jul17 |
| | | | |
| 6360_male_Var_3Jun07 | 22333_sex?_Hautes-Alpes_15Jul10 | 35899_sex?_Alpes-Maritimes_9Jul14 | 23227_female_Valais, Switzerland_26Jul10 |
| | | | |
| 11621_female_Var_27Jun08 | 44447_female_Alpes-Maritimes_17Jul17 | 38181_female?_Hautes-Alpes_6Jul15 | |
This is very similar to the High Brown Fritillary (A. adippe) and the Dark Green Fritillary (A. aglaja), although niobe is usually slightly smaller. For the principal differences based on an upperside view, see the adippe and aglaja pages. The undersides of each of the three species are different and more easily distinguishable than the uppersides.

In the niobe underside, which is superficially similar to adippe, the veins are usually lined black and there is (allegedly) usually a small black spot within a small lighter spot near the unh base (see illustration below - although the black spot is usually larger than this), although in the far south of France niobe is rarely seen with the famed black spot. Indeed, every specimen seems to be of the subspecies eris, which appears to be predominant in the south. Eris is usually lacking the unh black lines, which seems to contradict the descriptions in most of the text books which state/suggest that the black lines are characteristic of niobe.

There is possible confusion between eris and cleodoxa, the southern form of adippe, although I have generally found eris to be buff with some orange and cleodoxa to be more strongly orange-yellow. Cleodoxa does not appear to occur in Provence, in my experience.

At high altitudes, I have sometimes found rather dark forms of niobe, as illustrated by some on this page.

Niobe is an early emerger compared to adippe and aglaja, appearing in May. It is also seems to have a more southerly distribution whereas adippe and aglaja do not seem to occur in the far south of Var (south of the A8 motorway) and in the Mediterranean coastal regions.

In 2019 this species was reclassified as Fabriciana niobe. I'll give it a few years before changing the web page (and all the occurrences and links associated) as it is entirely possible that the taxonomists will change it again. Also Argynnis niobe is in common use and often used in web searches, etc.
| | | | |
| --- | --- | --- | --- |
| ref | sex | observations | alt. m |
| 8419 | M | I suspect this is a male niobe (rather than aglaja) based on the slightly lighter markings especially around the uph basal area and the marginal uph marks which are narrower and more clearly crescent-shaped, compared to the more solid marks of aglaja. However, that post-discal uph spot in s4 looks heavy for niobe and suggests aglaja, but the very small spot in s6 is a strong indicator of niobe. The sex brands on upf v2 and v3 are quite slender but enough to confirm male, along with the body shape. | 2200 |
| 22589 | M | a very fresh male, the orange colouring is very rich. | 1120 |
| 41522 | M | even though the air temperature was barely above 3C, the sun was providing the warmth and this male had no problem landing on the snow, even though it was just starting to melt. I don't think I have ever seen a butterfly actually land on the snow. | 2020 |
| 41553 | M | a male with perfect fresh white fringes settling on the cold ground, as this photograph was taken only a short while after 41522. | 2020 |
| 5956 | F | a typical female, quite large and with a slight sheen across both forewings. | 220 |
| 47408 | M | a rather suffused niobe sitting, strangely, on a very large fungus at high altitude. The uph also shows some interesting colour variation with stronger colour on the lower half of the wings. It settled on this fungus several times, but it is hard to see what the attraction was. | 2300 |
| 47555 | M | a typical high altitude niobe with darker markings. | 2320 |
| 48428 | M | a male, warming up with open wings in an overcast spell. Rather narrow marginal chevrons especially on the hindwing. | 1590 |
| 25991 | F | a female, I think, based on body length, if not on body shape. The absence of any discernible sex brand rather confirms female. | 185 |
| 23232 | F | a very dark individual, a female judging by the body length and shape and behaviour. 23227 is the underside. It is the underside that confirms niobe, as I would not be confident of an identification based on the upperside alone. | 2090 |
| 35424 | F | I believe this to be a female although there is conflicting evidence. The dusky feel to the colour, the body shape and particularly the body length, plus the extensive basal suffusion, certainly point to female. However, the thickening of upf v2 suggests the sex brand of the male. I think the weight of evidence points more toward female, on balance, and maybe the vein thickening is just a function of the heavily marked suffused appearance. | 220 |
| 44451 | F | a female, with some slight deformity to the upf on the left side. It was unusual in that there were "albino" patches on both the forewing and hindwing devoid of colour. 44447 is the underside and these patches were the same on the underside of both wings. | 1550 |
| 6360 | M | I suspect this is a male, based on what I could recall from seeing the upperside. The unh is a beautiful blend of beige and pale orange, with (unusually for the specimens I see in the far south of France) black edging to the markings, which adds to its appeal. The famed basal black spot is absent, but it is just possible to see two black pin-pricks within the yellow spot. It is the southern subspecies eris. | 140 |
| 22333 | F | a rather dark niobe, possibly female based on its behaviour. The colouring is about halfway between typical 11621 and the high altitude 23227. | 2040 |
| 35899 | ? | this is, I believe, a female based on what little I can recall of seeing the upperside. It is the nominate form, not the southern form eris, but is still missing the famed black spot (except with the aid of a magnifying glass). The photograph has been rotated through 90 degrees for convenience. | 1400 |
| 23227 | F | a female, the underside of 23232 above. Although it is rather dark and diffuse, it is still very attractively marked. | 2090 |
| 11621 | F | a rarity! A female with a clearly visible, if still small, black spot. Curiously, the veins are not lined black, in contrast to 6360 which has black veins but no black spot. | 220 |
| 44447 | F | the underside of 44451 showing the "albino" patches on both wings. | 1550 |
| 38181 | F? | a high altitude female of the form eris. | 2280 |
8419_male_Valais, Switzerland_22Jul07
41522_male_Hautes-Alpes_15Jul16
41553_male_Hautes-Alpes_15Jul16
47408_male_Alpes-Maritimes_16Jul20
47555_male_Alpes-Maritimes_20Jul20
48428_male_Pyrénées-Orientales_13Jul21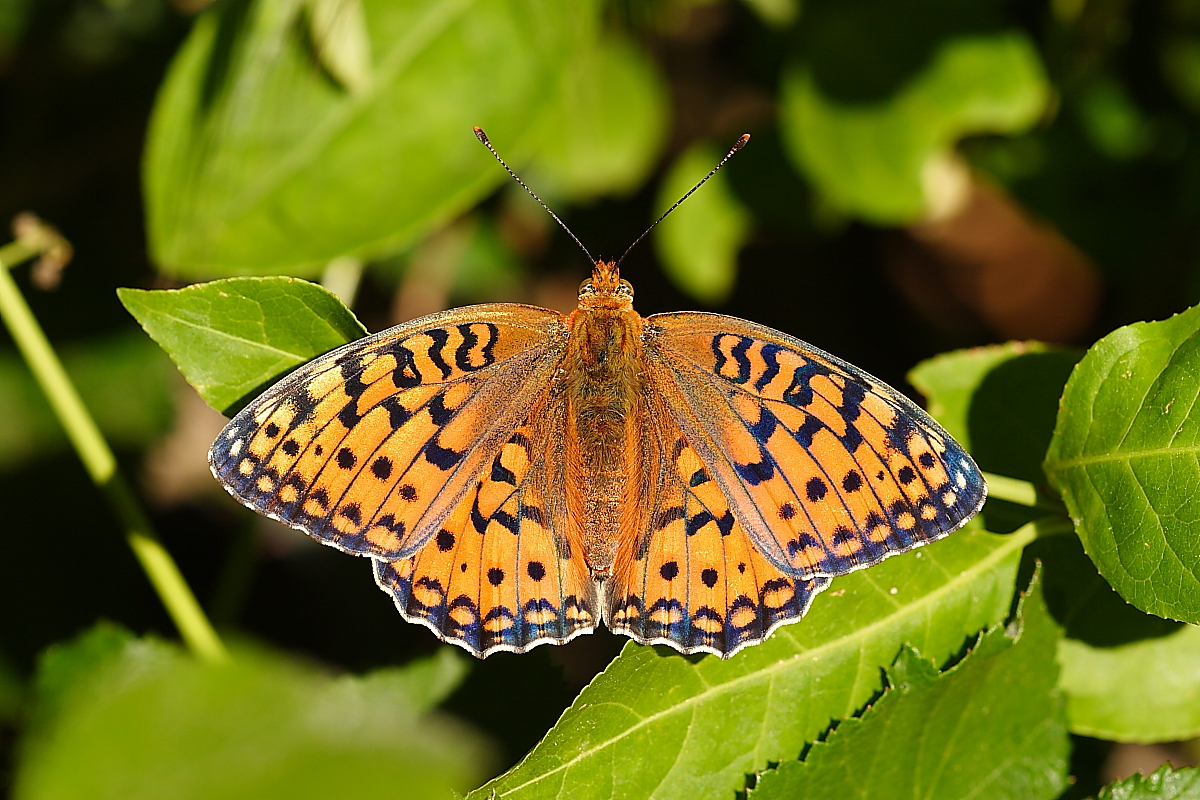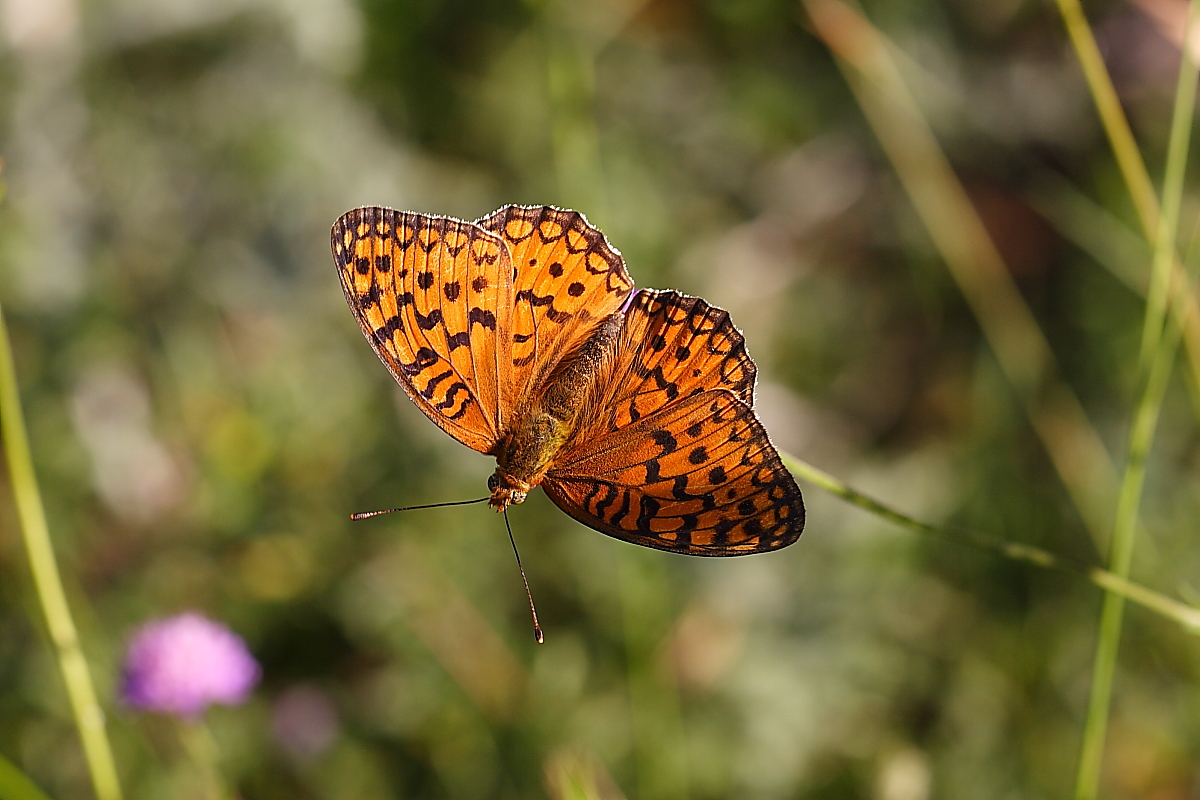 23232_sex?_Valais, Switzerland_26Jul10
44451_female_Alpes-Maritimes_17Jul17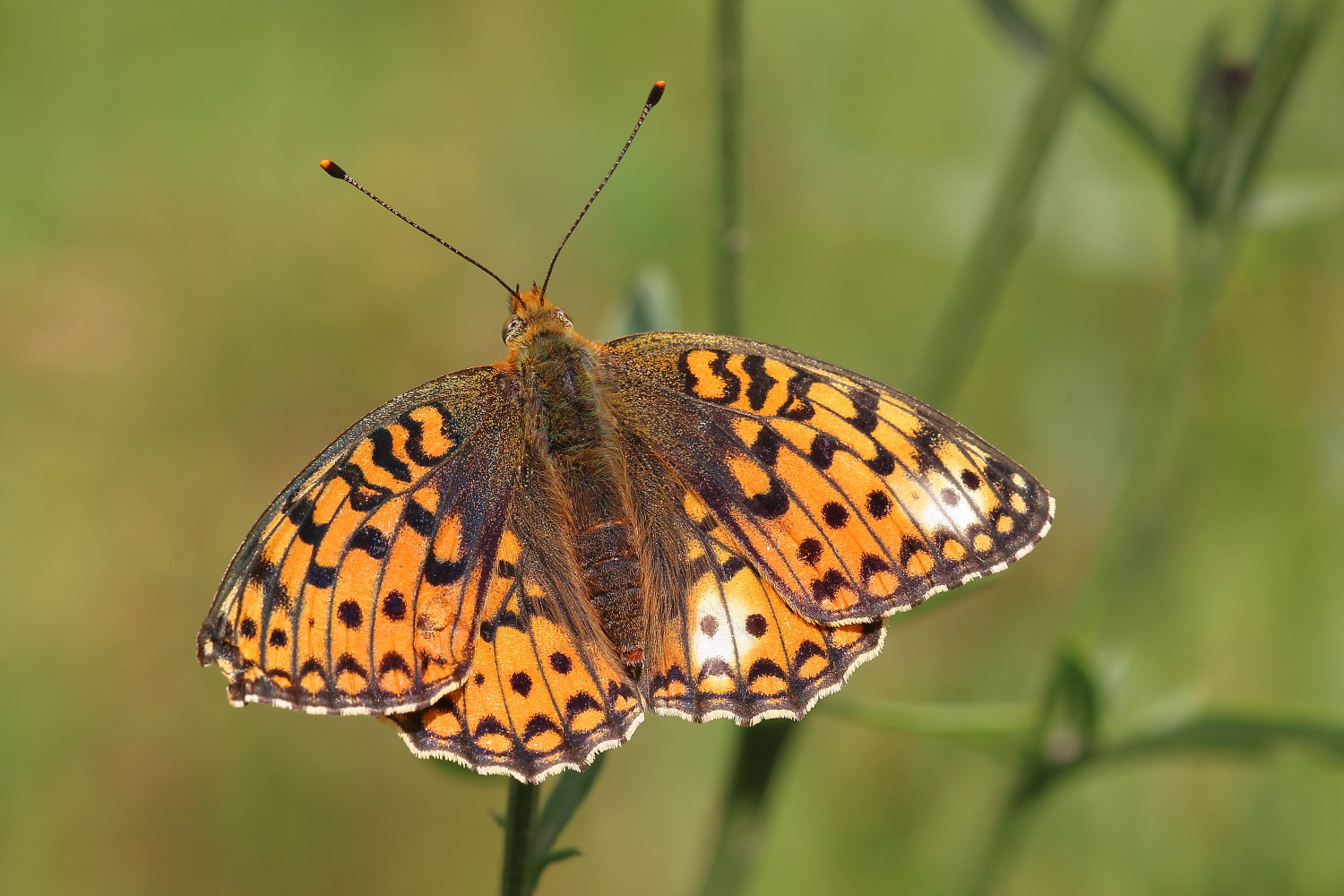 22333_sex?_Hautes-Alpes_15Jul10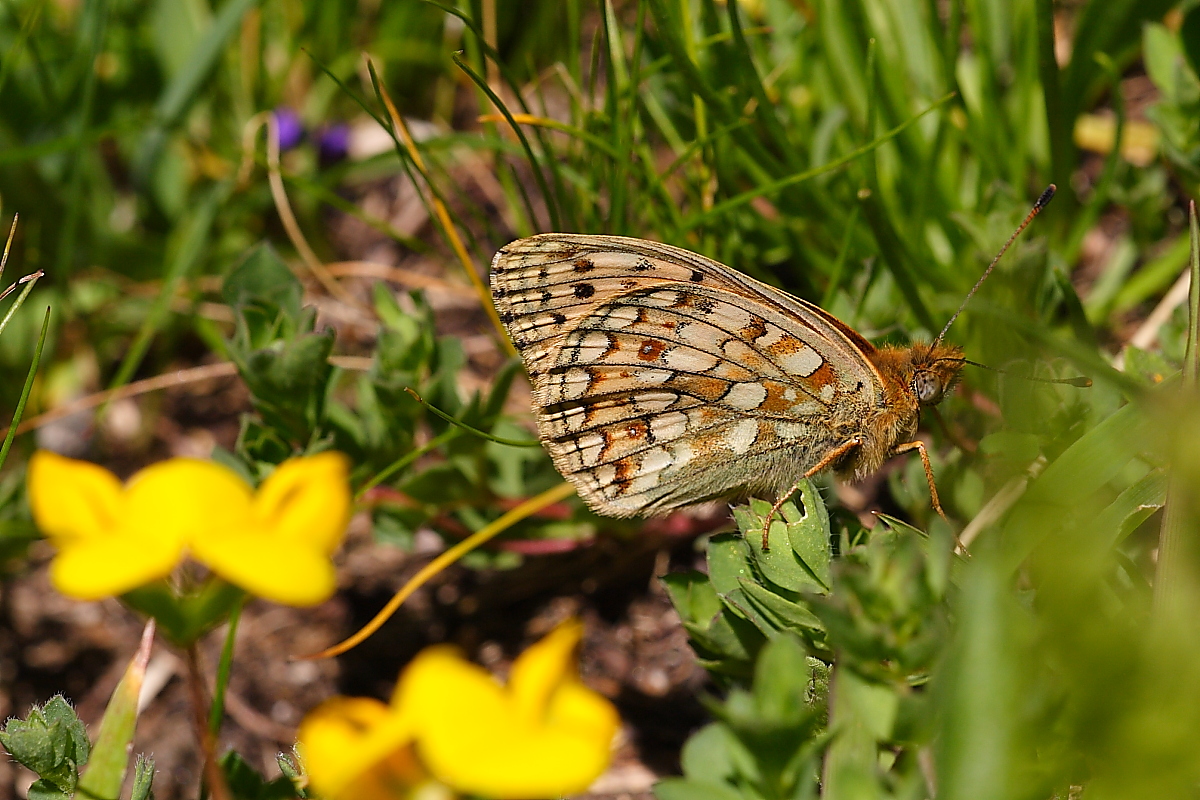 35899_sex?_Alpes-Maritimes_9Jul14
23227_female_Valais, Switzerland_26Jul10
44447_female_Alpes-Maritimes_17Jul17
38181_female?_Hautes-Alpes_6Jul15