Scarce Swallowtail (Iphiclides podalirius)
2016 photographs highlighted in green. Click on any photograph to go to an enlarged picture, or simply scroll down the page.
| | | |
| --- | --- | --- |
| | | |
| 7939_male_Isère_5Jul07 | 22425_male_Hautes-Alpes_16Jul10 | 1133_male_Alpes-Maritimes_28May06 |
| | | |
| 7983_male_Isère_5Jul07 | 31820_sex?_Var_23Apr13 | 36839_sex?_Var_13Apr15 |
| | | |
| 17051_female_Var_30Jun09 | 15226_ovum_Var_20May09 | |
This is a most majestic butterfly, huge and floating effortlessly. It is not, as its English name implies, scarce, and in my experience it is much more common than the Swallowtail (Papilio machaon). I believe the English name originates from the early English lepidopterists and refers to its scarcity in the UK in the 1800s or thereabouts.

In 2000 in the Dordogne at a cottage with some lavender bushes about five metres from the front door, on one occasion twelve podalirius were nectaring together.

In 2006 I saw at least 15 very fresh podalirius "puddling" (taking salts and moisture from wet earth), and when two machaon arrived to puddle at the same place they were driven away by the podalirius. Not unlike crows mobbing a hawk, quite an amazing sight.
| | | | |
| --- | --- | --- | --- |
| ref | sex | observations | alt. m |
| 7939 | M | a male, taking salts. This shows the width of the enormous podalirius wings. | 900 |
| 22425 | M | a male, taking salts. | 1000 |
| 1133 | M | a male underside. A quick snap as the wings are constantly on the move. | 330 |
| 7983 | M | another quickly taken shot to catch the underside of this male. | 900 |
| 31820 | ? | a very fresh, probably just emerged, specimen. | 450 |
| 36839 | ? | this specimen had just emerged and was in the process of drying its wings. | 20 |
| 17051 | F | a female, I believe. | 920 |
| 15226 | ovum | an ovum, on a leaf of Blackthorn (Prunus spinosa). | 140 |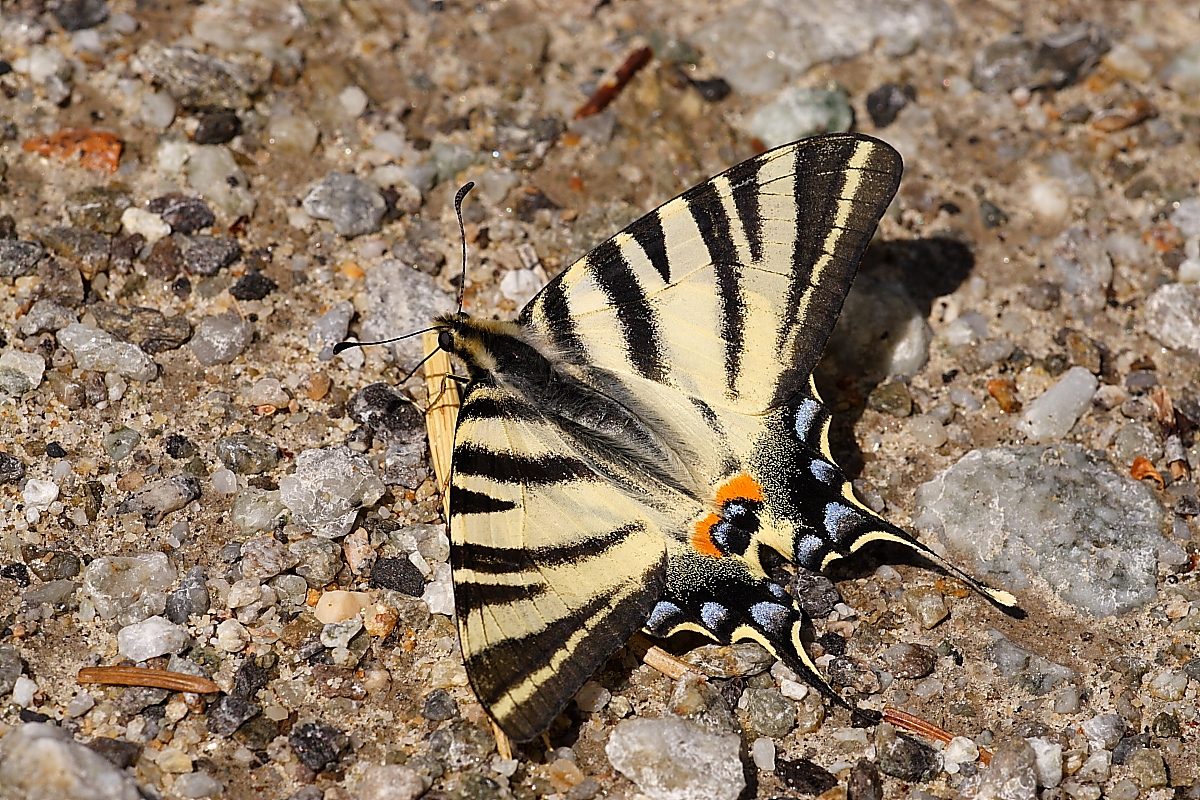 22425_male_Hautes-Alpes_16Jul10
1133_male_Alpes-Maritimes_28May06